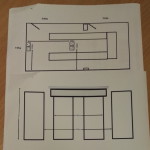 One of our customers in Houghton Regis with a redundant office space asked us to quote for converting it into a Training Room, however they presented us with a challenge in that they required the work to be completed within seven days of the proposal being submitted to them. After accepting our proposal our customer initially submitted a rudimentary plan to us and although we stipulated where the power sources should be we still requested a site visit as 'Eyes On' is always required. Initially we were under the impression there was a blank wall where the projector screen was to be placed, little did we know that there is four windows on three of the walls.
Sound is obviously a perquisite for any training room and these stylish 120W white ceiling mounted speakers are perfect. Initially the specifications stated six speakers but it soon became apparent four was more than enough for the room size. It goes without saying our life was made easier by the false ceiling, not only in terms of mounting but running the cables as well.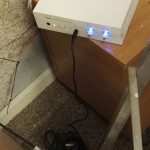 While most good quality projectors have a reasonable sound output the inclusion of this VISION AV-1700+ four channel Amplifier/Mixer allows the customer versatility in the types of presentations that can be conducted. Not only can sound from HDMI & Audio-out from any presentation device be passed back to the Amp and then to the speakers, there is also the capability to pass audio directly into the unit from a microphone or audio only device.
We went for the InFocus IN3138HDa DLP projector – 3D – 4000 ANSI lumens – 1920 x 1080 – 16:9 which has the power to make big pictures in big rooms even when it has to punch through ambient light. The InFocus BrilliantColor implementation brings rich, realistic color to any presentation and you can also control it via the remote of operation buttons on the unit or alternatively remotely-over your network or corporate LAN courtesy of its RJ-45 jack.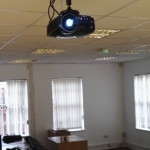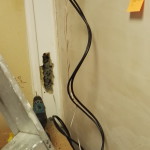 Cables can be run in a large number of places and ways. However, some places are better than others, and certain rules need to be followed to comply with the wiring regulations in some cases. In addition to the practical issues of cable routing, one also needs to think about what materials you are placing the cable in/under etc. Naturally, we fully test the systems and components installed and certify that they meet or exceed all relevant standards – and we provide the finished cabling infrastructure.
The Saker Series is an electric projection screen that embodies all the virtues of quality, durability, and aesthetic value. It utilises MaxWhite Fiberglass (FG) material which has a wide viewing angle to allow the audience to see the image from anywhere in the room.
Do a Google search on "projection screen" and you'll quickly learn that Elite Screens is one of the leading manufacturers in this particular product space. Granted, their screens tend to cost more than lesser brands' alternatives, but like most things "You pay for what you get" and with Elite Saker you get quality. Comes with both hard wire and wireless remote controls and hardware to easily mount directly to a wall or ceiling.
Youtube video of the Elite Saker we installed retracting and extending.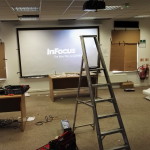 So what makes a good Training Room?  What essential elements make it an empowering place for learning and not a place to be tortured into learning?
Room Configuration
First, there is the room itself. If you are lucky to have the opportunity to have design input when the room is constructed or renovated, you can control some important components. Control your lighting with a dimmer switch.  You can adjust the brightness of the room so it doesn't interfere with the projector while providing enough light to keep people from falling asleep. You obviously need sufficient network drops that have accessibility throughout the room. It's beneficial to have a place to store training materials such as pens, notepads, highlighters and flags to note important pages in documentation. Finally you should consider having a laptop permanently assigned to your training room for "laptop survival skills" just in case your presenters unit fails. Just make sure that you can lock it up.